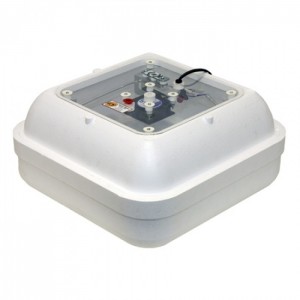 As far as HovaBators go, this model is pretty nice.
This incubator features the styrofoam construction that is lightweight and easy to move as needed. However, this construction is not typically as durable as other types of materials. Still, this incubator does have some features to help make up for the construction.
The GQF 1583 has a large picture window that allows you to see all of your eggs, which is a huge improvement over the 1602 and 2362. This one also features the Turbofan system, which means that it uses circulated air to keep temps consistent and even throughout the unit.
Although this unit still uses the wafer control system, it is pretty easy to set it and forget it, making this a good incubator for beginners or low-volume breeders. Just make sure you are storing it properly to keep it from becoming damaged. It is important to use a cleaner that is safe on styrofoam as well, as some cleaners will eat through the material making it virtually unusable.